Stewardship of Land, Love, and Life (with a special appearance of my son ramming down ginormous inflatable bowling pins in his wheelchair on our driveway on a perfect Summer's birthday evening…)
Overgaard.
It's my son's middle name; well, one of them.
His whole name is Karl Overgaard Coning Madsen, but he was born Karl Overgaard Madsen Coning.
Like my daughter born two years later, Karl's second middle name was initially my last name, and 'Coning,' their papa's, was the last name.
I'd kept my family name when Bill and I married, but after my children were born, I missed sharing a last name with them, and so was in the process of legally changing it to Coning…when the accident occurred.
Suddenly it seemed not quite right for me to take the last name of my late husband, but at the same time, I didn't want his name to be lost.
So I just legally flipped the last two names of my children.
I got a family identity, which was so necessary for me then, and they kept their father's identity, which was just as important.
It was my son's 17th birthday yesterday, so I've been thinking about his name.
In related news (believe it or not: hold that thought!) I've also been gardening lately, a lot.
I've got a huge plot, and have a huge array of garden tools, which make my work easier.
They make me very happy.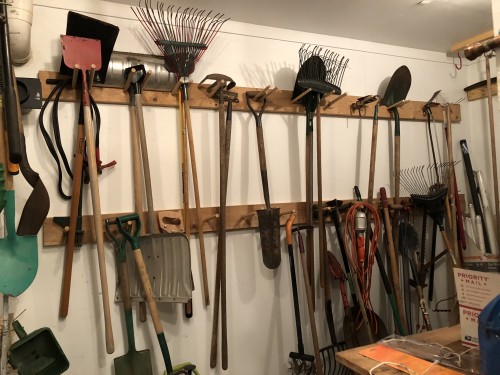 Some of these Instruments of the Soil I got when I bought the house: others, though, I have accumulated along the way.
However, these three, here below, I inherited.
They belonged to my paternal grandfather, Vagner Overgaard Madsen.
If you look closely, you can see that he burned his initials "V.O.M. 1935" in the handles: my father says that he used a magnifiying glass to make the markings.
Grandpa Madsen was a joval man, and a mischievous one, from what I hear (I thrive on stories about him, as I only 'met' him once, when I was just six months old).
He worked hard at a seed company in Brookings, South Dakota (named 'Sexauer Seeds,' and I'm fairly sure that one never reaches the age of maturity when one doesn't grin a bit at that) and loved his work, loved his land, and loved his family.
Below are two pictures of my grandparents, first, just after they were engaged, taking a stroll on the Danish North Sea, and second, their wedding picture, taken the day after their wedding in Lake Benton, Minnesota.
He was dapper, my grandpa, and my grandmother beautiful—and both brave to leave their families for a new country far across the sea, and just in their early 20s too.
It turns out that Grandpa Madsen loved to garden.
Thanks to my incredibly gracious congregation in Duluth, who came up the first two Saturdays to help me reclaim my garden (and trails through my forest), and two friends who did more of the same just last Sunday, the ground has been tilled, we have rediscovered grape vines, blueberry bushes, horseradish (!!), more raspberries than we could possibly eat, asparagus, and rhubarb; planted the seedlings we nourished since late April in our barn (tomatoes, squashes, melons, beans, broccoli, and others I'm forgetting), and direct sowed carrots, lettuces, spinach, beets, red onions, spring onions, arugula, kale, and pollinator herbs; and Else decided to create a flower garden with bird/butterfly/bee friendly plants.
Just the other day, on Facebook, I posted some pictures of my garden coming into being:
Behold and lo my cousin Martha saw them, and wrote "Looks like you take after Grandpa Madsen – He had the most incredible garden!! (except by the time I was seeing his gardens he had mostly flowers – I can still see him in his white shirt, black pants, wooden shoes and a jaunty hat… ) xo!"
I was positively thrilled.
So I posted the pics of the tools that I still use, almost every day; I don't know how I ended up with them, but I wanted her to know that the love-of-soil tradition continues, and, in more ways than one, in his name!
And Martha then posted this: "That is soooo cool!! I love that – Grandpa would be so very proud of you – and your garden!! No wonder you have such a great garden – I'm sure his hands left their mark to pass onto generations in those tools – good energy and expertise – not to mention love! Lucky you!!! xo!"
I love that "No wonder you have such a great garden…" and then the obvious grounding for it: family love for the land and for each other.
The combination of Martha's words, and my grandpa's woodburned "V.O.M.," and my son Karl Overgaard Coning Madsen's birthday, all together made me think a bit longer about that name 'Overgaard.'
My son has it.
My father has it.
His sister had it.
Their father had it.
But why 'Overgaard?'
So I asked my father, "George H. O. Madsen," why the "O?"
Unfortunately, I asked him that question via text at 9:30 p.m.
In the morning, with only four hours of sleep after scouring the Madsen genealogy papers that a Danish cousin of his drew up, he rang me up with the upshot-bleary-eyed answer, "I dunno."
However, he did learn that the name surfaces in the family tradition going all the way back to the 1700s.
And what does it mean? "Madsen," for example, means "Mads' son."
But what does "Overgaard" mean?
Steward of the farm, of all things.
I love that.
Steward of the farm.
The more I think on Karl's birthday (and, as always, the accident that changed so much just three years later), and on my grandfather and those tools of his with V.O.M. so proudly emblazoned on their handles and that recurring 'O,' and on my cousin's comment, I've come to think that much of my family's marrow melts down to this: stewardship of land, stewardship of love, and stewardship of life.
That is not a bad legacy, it seems to me.
I don't say that with pride: I did nothing but serendipitously show up with these people!
I say that instead with powerful thanksgiving and gratitude.
But these fundamental elements are also deeply engrained and embedded in our Judeo-Christian tradition: stewardship of land, stewardship of love, and stewardship of life.
Everything is God's, we are simply tenders of it, and so let's tend land, love, and life with abandon.
It's fairly simple.
As a matter of fact (despite some selective evidence to the contrary), I'm pretty simple.
Give me some dirt.
Give me some family.
Give me some tradition.
Give me some good food born out of dirt and tradition and shared with family and friends, and give me a pleasant evening to savor it.
Add a bit of Danish Akvavit, perhaps throw in a communal puzzle, and me and mine will steward the heck out of it.
In fact, it doesn't even need to be a puzzle.
Did I mention that it was my son's birthday?
Here are three pictures of Karl's birthday three years ago, when he was in ICU three weeks after the accident, just barely clinging to life, and after his papa had lost his.
And here was last night: no puzzle, but land, and simple food (some even from our garden, tended to via V.O.M.'s beloved garden tools!), and good friends, and ginormous bowling balls that Karl Overgaard Coning Madsen rammed down with life, thereby giving us more life than we had moments before.
251A26F6-7BF2-4326-A10E-F1128C5683B9
On this day, then, a raised akvavit and a raised soil-stained hoe to my grandpa, my God-blessed boy, my garden, and friends and family near and far, and to a faith tradition that teaches the simple art of simply savoring and stewarding land, love, and life.